After suffering a mechanical misfortune in the semi-finals, China's Li Jian outsprinted Chris Berti to win the 3rd Beijing International Minithlon at the Radisson Blu last Saturday. The women's competition appeared to be wide open and in the end The Hutong's Erin Henshaw got everything together at the right time to claim victory in the women's event. The inaugural edition of the Company Challenge was a bone for the home team of  Radisson Blu, which in the final relay narrowly beat the China Radio International equipe.
The weather forecast was already threatening on Friday afternoon, and when rain started to fall two hours before the start of the Minithlon it understandably became a deterrent for many registered participants. However, despite the very wet qualifying heats the people who did not turn up were proved wrong as everyone had a great time and we saw record-breaking performances, too!
Especially the men's individual competition went fast. Local minithlete Li Jian went sub- 1:20 in a hotly disputed final and crossed the finish line in 1:17.33! A new track record and quite amazing when you think of it. After all, the Minithlon does consist of three sports disciplines: swimming, biking and running. Li Jian in fact received a wild card for the final, as the bike he was given for the event had a stuck chain whist in the lead of his semi final. Chris Berti, who had been looking exceptional during the heats and semis had to be content with second place in 1:20.10. Third placed Wang Yan was also not far behind in 1:23.08.
Interestingly, the women's competition on the day had more participants than men, and seemed to be more open. Entering the final, there was no clear favourite and ultimately it was Erin Henshaw who scored the win in a solid time of 1:36.64, three seconds ahead of Amy Darml and Jenny Rymer taking third. Henshaw, known from Beijing's The Hutong, was the very first person to sign up for the Minithlon this year. A coincidence?
The Company Challenge was a new addition to the Minithlon programme and turned out to be very promising for the future. Due to the weather a few teams dropped out, but the competition in the final relay was still intense between the home team of the Radisson Blu, China Radio International, two Han Long Hui Tong teams and Wan Fen Tuan. The Radisson squad very narrowly edged out CRI on the line in a blistering time of 1:11.31
Results can be checked here
Li Jian wins the 2012 men's competition
Barefoot is an option during the Minithlon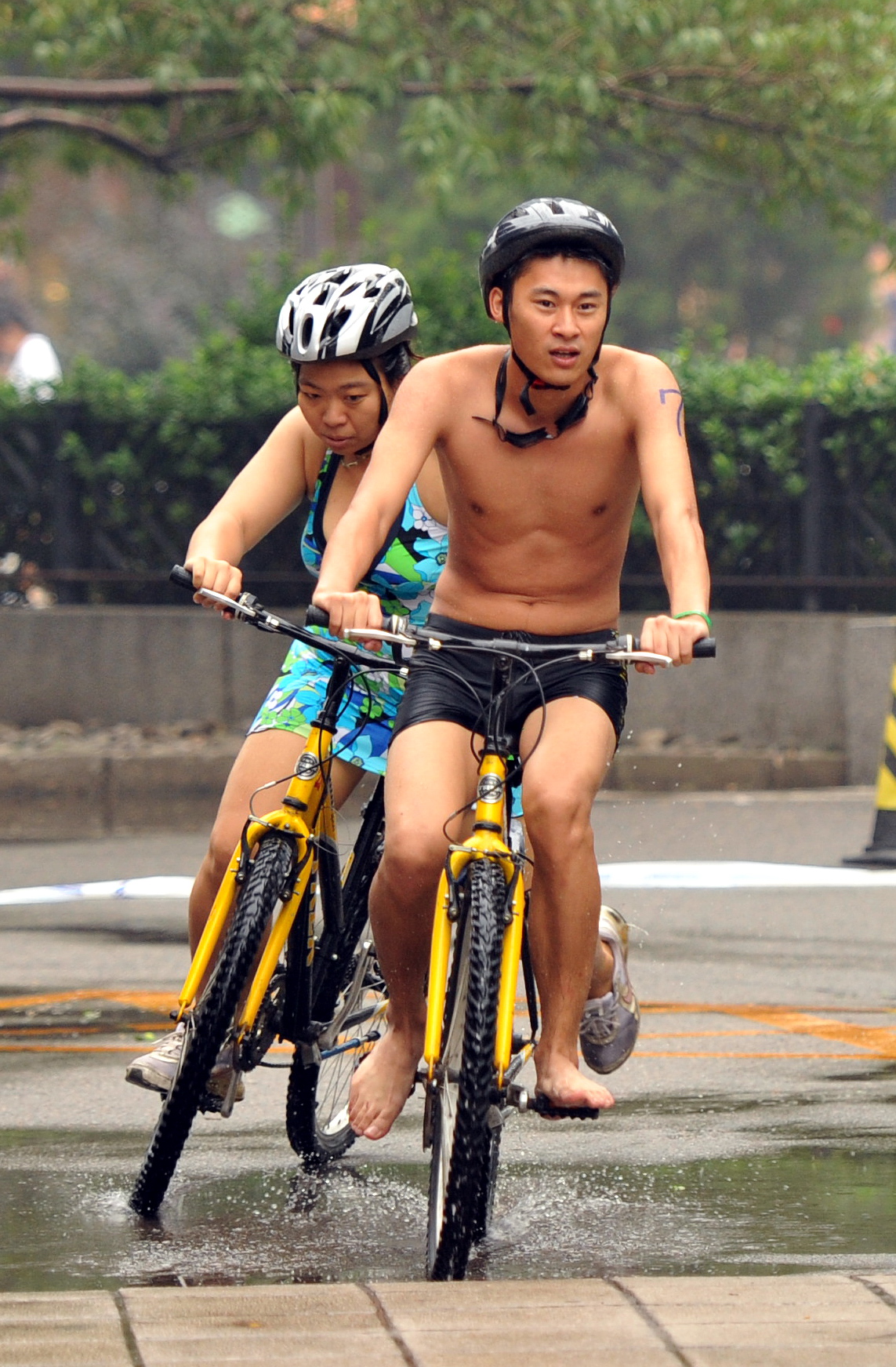 The preliminary heats of the Company Challenge were wet indeed